Le coup d'envoi du Tournoi des 6 Nations 2023, c'est dans à peine trois jours ! Il faudra cependant patienter jusqu'à dimanche pour voir l'équipe de France sur le pré contre l'Italie. Il tarde à tous, supporters, journalistes et bien sûr joueurs, de lancer les hostilités. Depuis l'annonce des groupes, les prédictions vont bon train quant à la nation qui sera titrée cette année. Tout le monde s'accorde pour dire que cette édition sera plus relevée que jamais. Il faut être particulièrement couillu pour se lancer dans un pronostic. Mais les Anglais aiment les pronos. Et du côté de Ruck, on aimerait croire que les Bleus vont réussir à conserver leur couronne. "Si les joueurs vedettes que Dupont, Jalibert, Ntamack et co, peuvent éviter toute blessure inattendue et jouer avec le même flair qui leur a valu le titre l'année dernière, alors les arrêter sera un défi de taille." En toute objectivité, ils savent que la tâche sera particulièrement compliquée avec des déplacements en Angleterre et surtout en Irlande. Un XV du Trèfle qui a fait très forte impression ces derniers mois, notamment en battant la Nouvelle-Zélande. "Andy Farrell a construit une équipe qui, n'importe quelle autre année, serait considérée comme la favorite pour remporter le titre des Six Nations, si les Français ne jouaient pas un tel rugby."

RUGBY. 6 Nations. "On attendait la moindre chose pour me descendre", Romain Ntamack surpris par les critiquesLe match de la deuxième journée entre Irlandais et Français est pour Planet Rugby le sommet de cette édition 2023. "Nous nous attendons à ce que ces deux équipes abordent ce choc avec une victoire à leur actif – contre le Pays de Galles et l'Italie respectivement – et ce match pourrait être la finale avant l'heure." Mais le site ne peut éluder le Crunch en rappelant que les Bleus n'ont plus battu les Anglais à Twickenham depuis 2007 ! Les hommes de Galthié auront-ils ce qu'il faut pour réussir là où leurs anciens ont échoué depuis tant d'années ? Ce sera à n'en pas douter un énorme test de caractère. "Tout le monde peut les aimer, mais les adversaires sur le terrain ont tendance à leur montrer moins d'affection." Un match qui pourrait forger les Tricolores et les mener vers le titre en octobre prochain. Mais pourront-ils supporter la pression, se demande The Guardian, en rappelant que seul Gaël Fickou a plus de 50 sélections au compteur. "Ils sont jeunes et leurs joueurs clés correspondent bien au stéréotype de jeu qui a forgé la légende française", mais ils seront privés de joueurs importants comme Danty, le perce-muraille au centre de l'attaque tricolore.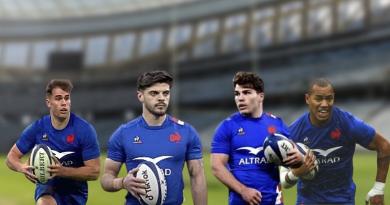 6 Nations. Equipe de France. Les Bleus sont-ils plus forts que l'an passé ?Heureusement, le groupe tricolore ne manque pas de talent. The Guardian fait de Damian Penaud le joueur clé. Si le Clermontois "joue bien, alors la France joue bien". C'est un peu pareil avec Antoine Dupont, note le journal anglais. "La plus grande qualité de Dupont est sa marge de progression, analyse Planet Rugby. Il ne semble tout simplement pas avoir de limite sur ce qu'il est en capacité de monter. Il paraît toujours capable de trouver une solution ou deux contre n'importe quelle opposition. Le meilleur joueur du monde, point barre." Le site spécialisé ajoute à la liste des joueurs clés, le centre Gaël Fickou, "vital pour la ligne de 3/4 tricolores, l'homme qui mène la défense, crée des attaques de transition et organise le chaos autour de lui." Et si Cros, Ramos et Macalou seront à suivre pendant ce Tournoi, Charles Ollivon et Gregory Alldrit seront aussi des fers de lance pour la France. "Le rythme de travail absolu d'Ollivon, sa capacité à intervenir dans n'importe quelle situation et à marquer", sans oublier sa présence en touche, sont remarquables. Quant au Rochelais, il est décrit comme "extrêmement abrasif, merveilleusement efficace et absolument implacable". Le 3e ligne est toujours dans l'avancée et sait faire vivre le cuir au contact. Comme Ollivon, il fait le lien avec les 3/4. Si tous ces joueurs sont en forme, nul doute que la France sera très difficile à battre. La BBC de rappeler que qu'aucune équipe n'est parvenue à réaliser deux Grands Chelems de suite dans le 6 Nations. Il y a un début à tout non ?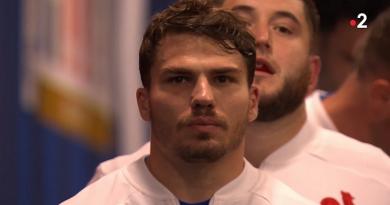 RUGBY. Ces records de légende vont-ils tomber lors de la prochaine édition du 6 Nations ?
Je ne veux pas dénoncer mais sur les huit visages des joueurs pris en photo, je soupçonne 3 d entre eux d être sur leur téléphone.
Et c est sans appel…
Ont-ils un mobile ?
Ils appellent ou pas ?
15h15


17h45


16h00


15h00


17h00


17h00


le meilleur site de rugby (c'est vous qui le dites, voir études harris), dans votre poche. disponible gratuitement sur ios et android :
Le Rugbynistere est un site de Rugby leader en France, créé par deux passionnés d'Ovalie en 2008, et aujourd'hui lu par plus d'un million de lecteurs passionnés chaque mois. Si malgré tous nos efforts au quotidien pour que ce site soit le meilleur, vous constatez des coquilles, ou des manquements à nos devoirs, contactez nous, on n'est pas bien méchant !
Le Rugby No Limit est le tournoi organisé par le Rugbynistère depuis 2016, déjà l'un des plus populaires de France. Le concept mélange épreuves Intervilles et Rugby à toucher à 5 mixte, avec une grosse soirée déguisée !
Enchanté beauté. Je suis Gérard Mansoif, la Mascotte du Ministère, Bar officiel du Rugbynistère, à Toulouse. C'est un lieu de pèlerinage incontournable pour les bons vivants !
© 2008 – 2023 Le Rugbynistère